We have been blessed with a miracle building on Ten Mile and Griswold. Sunday Worship is at 11am on Sunday.

We are a Spirit-filled, Bible-believing church full of ordinary loving people. We hope to meet you soon. Thank you for stopping by.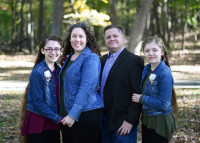 In His Service,
Pastor Scott and Kendra Lynn
---

No Worship Service this Sunday. We fully support the recommendations of our governor and our president and want to show wisdom and compassion during this difficult time. Please join our Live Stream on Facebook or YouTube and worship with us!
Click here or on the Covid 19 icon if you want to read more about our policies on coming to church sick or our short-term policy changes for Covid-19.
The short version: we are cancelling our public services and small groups until after Easter Sunday, April 12th, or perhaps later, to help minimize closer exposure between our people. Check back here for the latest church news and for links on how to participate in any online Bible studies.
---