We have been blessed with a miracle building on Ten Mile and Griswold. Sunday Worship is at 11am on Sunday.

We are a Spirit-filled, Bible-believing church full of ordinary loving people. We hope to meet you soon. Thank you for stopping by.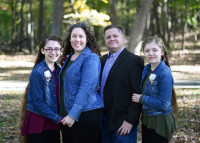 In His Service,
Pastor Scott and Kendra Lynn
---

Join us for live service this Sunday at 11am. We believe worshiping and coming together is essential. Hopefully the break with quarantine helped with the goal of flattening the curve, but it is time to go back to church.
So we are adopting the following short-term policies when coming to a live service:
We are asking families to sit together and we have lots of space between rows.
No hugging. (yes, even you! You know to whom I am referring).
We will be wearing masks when entering and leaving, but not while sitting so far apart in church.
We will also be taking everyone's temperatures when they come in the door. We can not let anyone in the building if they have a temperature over 99.0 degrees.
If you have been sick, please do not come to church or any church functions until you have been symptom free for 48 hours.
We are doing everything to make church safe and welcoming for you. Come join us. We hope to see you this Sunday!
Click here or on the Covid 19 icon if you want to read more about our policies on coming to church sick or our short-term policy changes for Covid-19.
---